Obi-Wan Finale - The Loop
Play Sound
"How dare you come into my house, motherfucker!" ― Francesca to Katie during the Manson Family's break-in to Rick Dalton's house
Francesca Capucci is a supporting character in Quentin Tarantino's ninth film Once Upon a Time In Hollywood. She is an Italian starlet and Rick Dalton's wife.
She was portrayed by Lorenza Izzo.
Biography
Rick Dalton met Francesca and married her during his stay in Italy.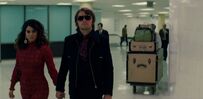 When Rick and his stunt double, Cliff Booth, return to Los Angeles, Francesca flies there with them via Pan Am. When they arrive, Rick takes Francesca to his apartment who is delighted with the place. On 8th August 1969, Rick and Cliff go to the Valley Mexican restaurant landmark Casa Vega on Ventura while Francesca stays behind at Rick's house, sleeping and being guarded by Booth's pitbull, Brandy. Some time after Rick and Cliff returned home, Francesca is woken up by loud music playing from a radio. Couple of moments later, three members of the Manson Family, Tex, Katie and Sadie, break into the house. Patricia Krenwinkel threatens Francesca with a knife and forces her to go to the living room where Cliff is held at gunpoint by Tex. When Watson is about to shot the stuntman, he orders Brandy to attack him. When dog bites Tex, Sadie tries to attack Cliff but he throws a can of dog food at her while Katie and Francesca stand in shock. After Brandy begins to attack Susan, Cliff knocks Tex on the floor and Francesca punches Katie but runs away to the bedroom after she takes out the knife. After killing Tex and Katie, Cliff passes out and Sadie manages to shot in the celling with Tex's revolver which scares off Brandy who runs away to the room where Francesca is hidding. Sadie then flies from the window and falls into the pool where she is burned alive with a falmethower by Rick Dalton.
After this event, the police (presumably called by Francesca) arrives and interrogates all the inhabitants of Dalton's house about the hippies. Later, Francecsa goes to sleep after taking five sleeping pills and Brandy joins her. Also, Rick is invited to Polanski's residence by Sharon Tate after Cliff is taken to the hospital.
Trivia
Francesca is based on 1960s Italian actresses and sex symbols, namely Sophia Loren, Claudia Cardinale, Virna Lisi and Monica Vitti.